Every comedian, especially those who are chilling in the drunken streets of Amateur-ville, will have heard all these things many, many times.
If you have comedian friends or expect to ever talk to one (which you will if you live in LA, we're clogging your streets like refuse after a hurricane), please read and avoid these phrases.
Otherwise, I guarantee you'll end up a flattering bit in someone's stand-up. Or worse: a character in their underground sketch comedy show.
1. "Oh, you're a comedian? Seth Rogen is awesome."
Good for Seth Rogen. Bad for us. Now every open mic is full of dudes who think being their vaguely-stoned selves is entertainment.
2. "My friends all think I should be a comedian."
Glad to hear you're up to Troy's high standards while you play World of Warcraft.
3. "Here's how comedy works... [even though I have never in my life attempted stand-up, and you have just told me you have been performing for several years now]"
Do I tell you how to be unemployed? No. Don't tell me my business and I won't tell you yours.
4. "What a sweet gig. You just stand in front of people and say whatever comes into your head."
Yes, whatever comes into my head after hours of practice, three bombed performances, and a plethora of audition rejections. Also crying.
5. "Tell me a joke."
Give me $20 and you've got a deal. Mama don't work for free.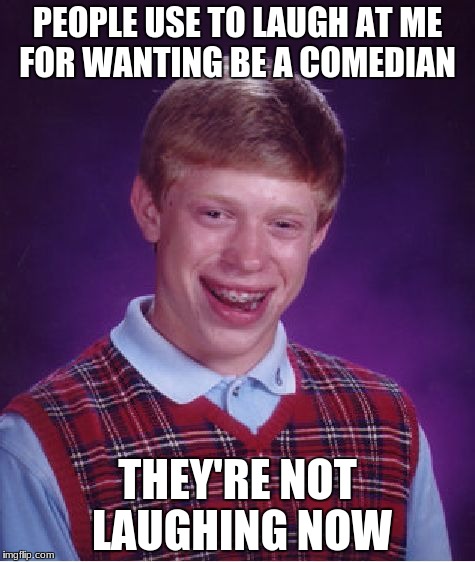 6. "I've got an idea for your act."
God, no. I don't care if Troy thought it was hilarious when you were playing Call of Duty, I don't need your bit about [censored] screwing [censored] in front of [definitely censored].
7. "I bet you hate having to be PC all the time."
I hate systemic oppression and sexual violence more. So no, I don't mind having a social conscience. Turns out I can make jokes without being offensive! Wow!
8. "I met [old comedian] once. He was pretty cool."
Can he get me a gig? No? Then I don't care that he screamed and jumped around onstage in the 90s.
9. "You take classes to be funny? Shouldn't that just be natural talent?"
Not all of us are as gifted as you are, guy-in-bar who keeps quoting Tosh.0.
10. "You should go do open mics and get discovered."
Thanks, I hadn't thought of that. I've just been doing stand-up in my bathroom mirror and crying.

The golden rule: If you don't have anything informed by your personal experience to say, don't say anything at all!
Tag urself, I'm #youtakeclassestobefunny?